Ivory's Sharpening & Supply
Co.
New Products









- Since 1975 -

New Products:
This page is where you will find new items as they arrive at
Ivory's Sharpening & Supply Co.
---
Andis Ultra Super Turbo Dryer
Ultra Super Turbo, Has 1875 Watts is a full size dryer
with a cool shot setting to lock in styles, 3 heat and
2 air speeds with a quiet, long lasting motor.
---
CONAIR PRO Dryer
thermal ceramic
twin turbo dryer
The Conair Pro Dryer 1800 Watts is a full size dryer.
Features multi ceramic components which emit negative
ions. Ultra quite, light weight design. Has 12 heat/settings
combinations. Variable wattage control up to 1800 watts.
Ergonomically design handle. Quick-release hinged filter
for easy cleaning. Narrow 8 mm nozzle for pinpoint styling.
Perfect for straightening hair.

---
MANIKIN HOLDER SET
An economy-priced manikin. The face is of soft pliable plastic
with hand detail make-up. 100 % layered human hair 18" - 20"
length. Reinforced neck construction to avoid separation of
the base and neck. This a full size 21" head. Complete with
a matching holder.

---
Andis Blade
Ivory's is now stocking the new Andis3/4"H.T. Blade.
These blades will fit Wahl KM1 & KM 2 & most Oster, Andis & Laube
clippers. This blade leaves a full 3/4" of hair, now you can get away
from that 3/4" Plastic attachment that does not work very well
and keeps popping off your clipper. A skip tooth blade is not available
at this time.
Click here for pricing
---
Velcro Rollers
Ivory's Has a large supply Of Velcro Rollers
in stock From 3/8" to 3" Dia.

click here size color & pricing
---
Cord Detangler
The Cord Detangler is a devise used to prevent electric cords from becoming tangled and twisted.
Proper use of this of devise will greatly reduce or eliminate the time consuming problems of
untangling the cords. This seemingly small problem with electrical hair tool cords (clippers, blow dryers
and curling irons etc.) can be costly. Tangled cords can make these vital tools dangerous, causing
them to wear, become frayed and expose electrical wiring.
This picture shows a Cord Detangler starting to be installed
on a clipper cord.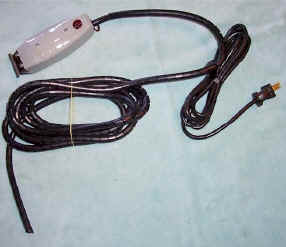 Cord Detangler click here for pricing
---
VIA Combs
Ivory's Is now stocking VIA SILICONE GRAPHIT combs .
The SG-540 is ideal comb for clipper and scissor-comb cutting. The wide flush platform and evenly
spaced teeth assure a clean, uniform cut. The longer teeth provide maximum control, with the comb's
flexibility allows you to conform to the shape of the head.
---


Prices are subject to change without
CREDIT CARD ORDERS: We need your name, phone number [Home and / or work],
card number, expiration date and home mailing address for a credit card match and
CVV verification. Cards are cleared through a Master Clearing Center.
1-760-244-2823
For A Custom Price Quote, Please E-Mail Us At
ivrys@aol.com
Hesperia California







Send mail to ivrys@aol.com with questions or comments about this web site.
Last modified: September 21, 2018